Orlando Business Journal by Carmen Carroquino – Thursday, November 11, 2010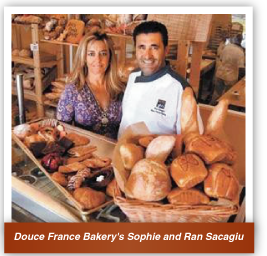 As demand for freshly kneaded dough continues to rise throughout Central Florida, so does the bottom line for 14-year-old Douce France Bakery in Winter Garden. Specializing in artisan breads and French-style pastries, Douce France Bakery expects to hit revenue of $3 million this year. The bakery, owned by Sophie and Ran Sacagiu, spent $2 million building an 11,000-square-foot building in Winter Garden in 2008, doubling the size of the 5,500-square-foot location they were renting on L.B. McLeod Road.
That expansion enabled the bakery to go from making about 20,000 pieces of bread and pastry daily at its former plant to 40,000 to 50,000 pieces at its plant near the intersection of State Road 429 and Colonial Drive. "You want to make sure you put money back into the business," Sophie Sacagiu said. Besides additional capacity, the couple wanted a showroom for customers' meetings or baking tutorials, a packing and shipping station, as well as a loading dock outback for deliveries. But more importantly, they wanted room for an 800-square-foot, 30-seat cafe where they could serve breakfast and lunch items.
Of the $2.5 million the bakery grossed in 2009, about 3 percent came from the cafe. The cafe allows the company to test-market items, but Sophie Sacagiu would like to see it grow to 10 percent of the total revenue. Also motivating them to move was the $9,000 monthly rental payments for their former building. The couple turned to the Longwood branch of Pinnacle Bank for financing. They owned the land for the new building, which they bought in 2005 for $200,000. Although weddings, birthdays and anniversaries may keep bakeries in business, staying afloat during troubled economic times requires diversification, said Sandy Polletta, who owns Edgewood Bakery in Jacksonville with her husband, Gary. "Companies are having to think outside the box to set themselves apart," she said. "Doing so can help them capture additional markets, otherwise untapped."
In the case of Douce France Bakery, the cafe and retail business helped boost the business' bottom line, but the wholesale business accounted for the lion's share of the revenue. Wholesale customers of the bakery include Walt Disney World Swan & Dolphin Resort, the Peabody Orlando and Lowe's Portofino Bay Hotel. Executive pastry chef Laurent Branlard of the Walt Disney World Swan & Dolphin Resort said what first attracted him in doing business with the bakery was its "very French way of doing bread, and I'm French." Calling the bakery "extremely consistent" and "reliable," Branlard said it also has a "quality to their goods that will take them far."
Sophie Sacagiu first met her husband in Paris where she was studying international marketing and he was studying business. They married and moved back to the U.S. While she was helping out in her father's kitchen at La Normandie — a restaurant the family sold about 10 years ago and has since closed — she got the idea for making bread. Her father wanted better bread for his customers, so they pooled their marketing and business skills to determine whether the area could support a French bakery. In 1996, the couple borrowed $30,000 from Sophie Sacagiu's father, André Bilheux, and secured an equity line of credit on their home for a total of $250,000 to invest in their new venture. Her father also co-signed their equipment lease because of their lack of credit history. The couple made $222,000 in 1997 — their first full year in business — and business has grown about 15 to 20 percent annually since then. The bakery now is at about 80 percent capacity, allowing the company to grow its reach of clients. Sacagiu believes she can grow the business by trying new recipes and adding new products to keep customers coming back. "You have to have ambition and achievable goals to be successful," she said. "Don't be greedy, don't charge too much or raise prices if you don't have to. You have to have quality and be available all the time to make it work."