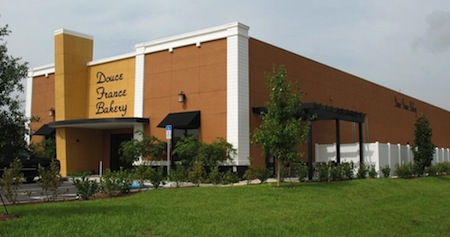 DF Bakery…
was founded in 1996 by Sophie and Ran Sacagiu
On July 14th 2008, we moved our operations into our newly built State-of-the-Art facility. We bake, and deliver ourselves; Succulent Breads, Breakfast Pastries, and Cake Components – 6 days per week in the Central Florida area. We have acquired a great reputation in Orlando based on our consistent quality and impeccable service, while keeping our prices very fair.
Our team is highly dedicated and works in close collaboration to achieve a common goal of crafting and delivering the finest baked goods, including breads and pastries, throughout Orlando and neighboring cities. We hold our work close to heart, striving to consistently provide products of the highest quality, made with passion and care.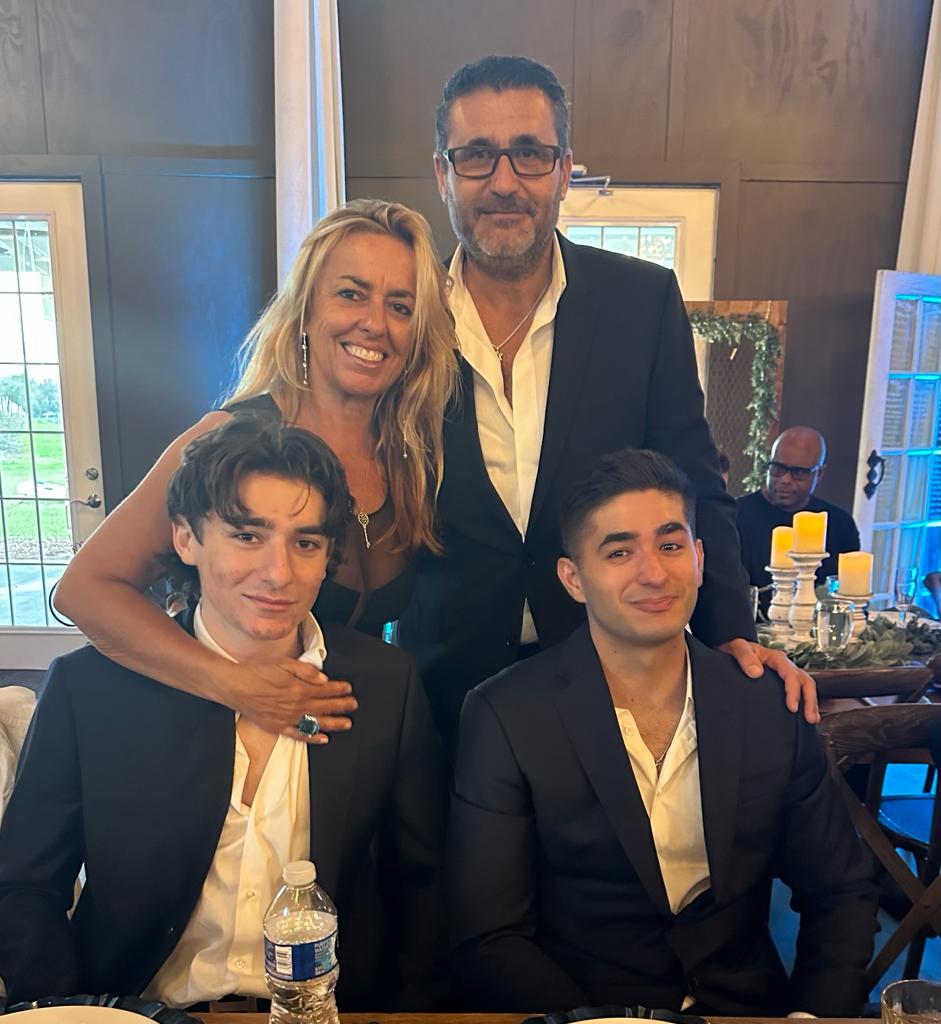 Top left to bottom right : Sophie, Ran, Nathan, Isaac
The Sacagiu Family
"As a proud family-owned operated business, we take great pride in ensuring the satisfaction of every customer regardless of the scale of their order." – Sophie & Ran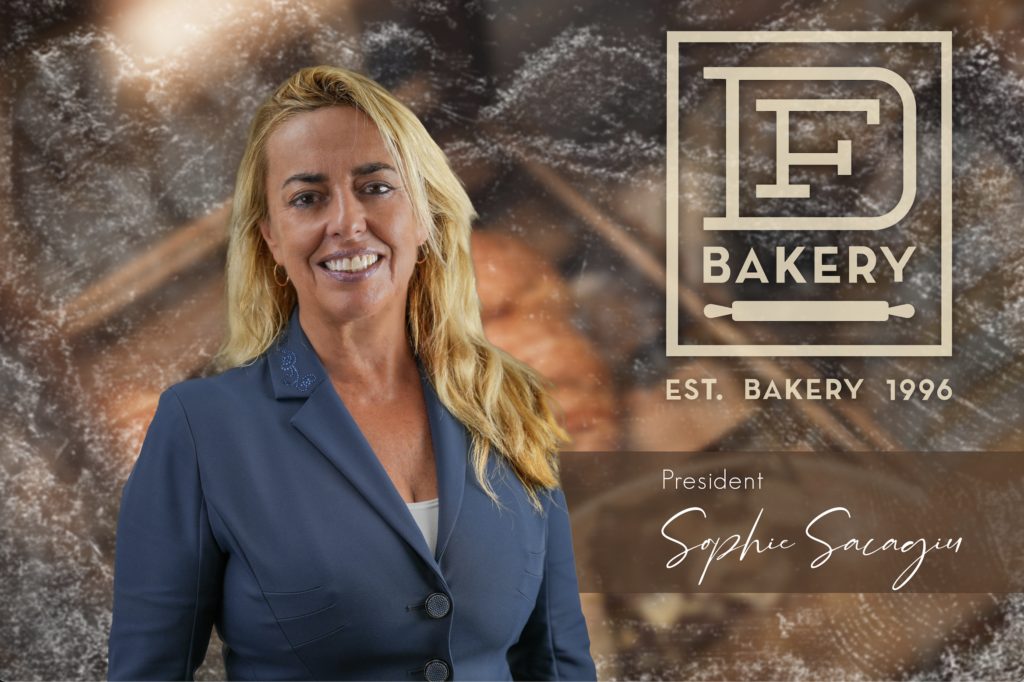 Sophie Sacagiu
– President –
Sophie was born in Alencon, Normandy – France. She moved to Orlando when she was 12 yrs old. Her family started La Normandie restaurant, exposing Sophie to quality food. After attending UCF for her undergraduate studies (AA), she moved back to Paris to continue her education. She graduated from Shiller International University with a Bachelor of International Business.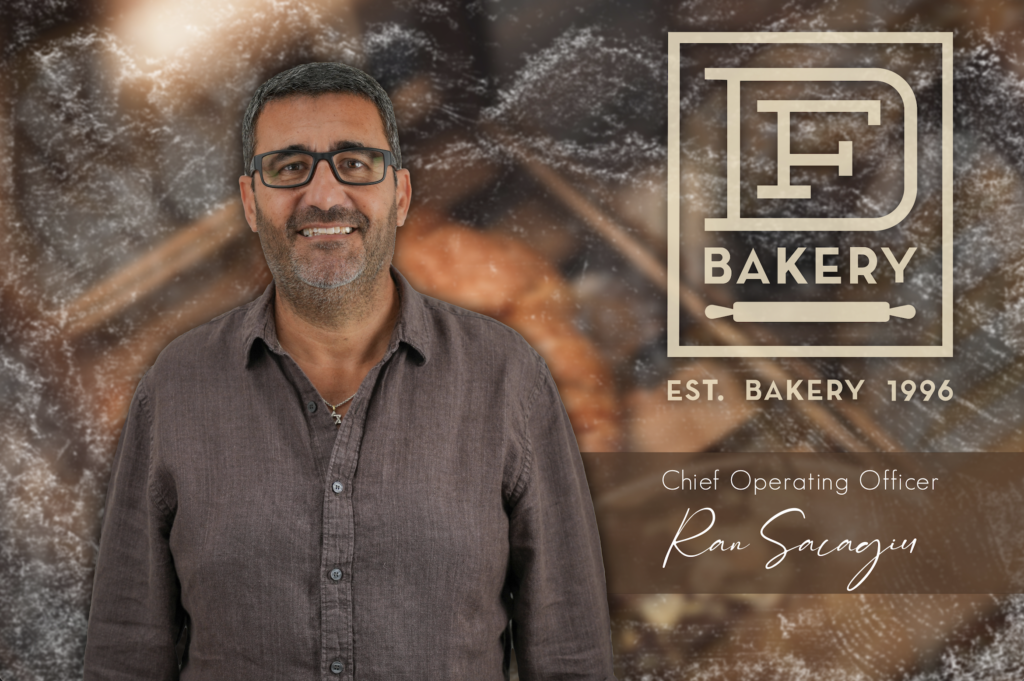 Ran Sacagiu
– Chief Operating Officer –
Ran was born in Ashkelon, Israel. He moved to Paris, France, at the young age of 9 with his family and began learning to bake through Parisian bakeries. Eventually acquiring a Brevet d'Aptitude in the baking field.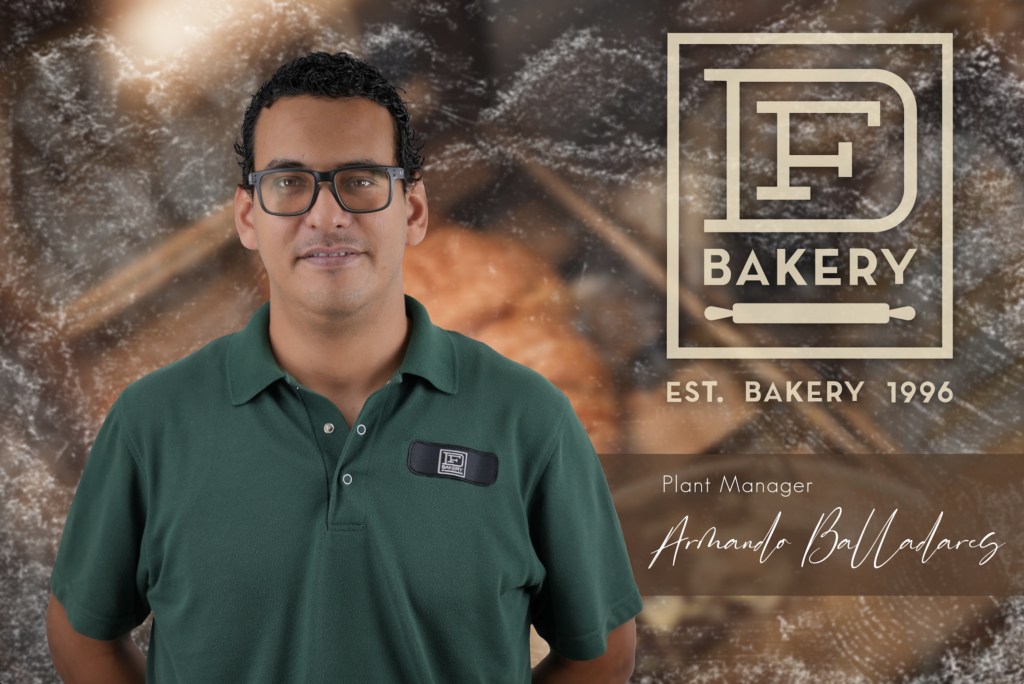 Armando Balladares
– Plant Manager –
Armando was born in Guayaquil, Ecuador. Graduated at Universidad de Guayaquil with an Engineering in Foreign Trade degree. Moved to Florida in 2015, and joined our team the same year. Started working as an assistant in the production department, and after a few years was promoted to Plant Manager.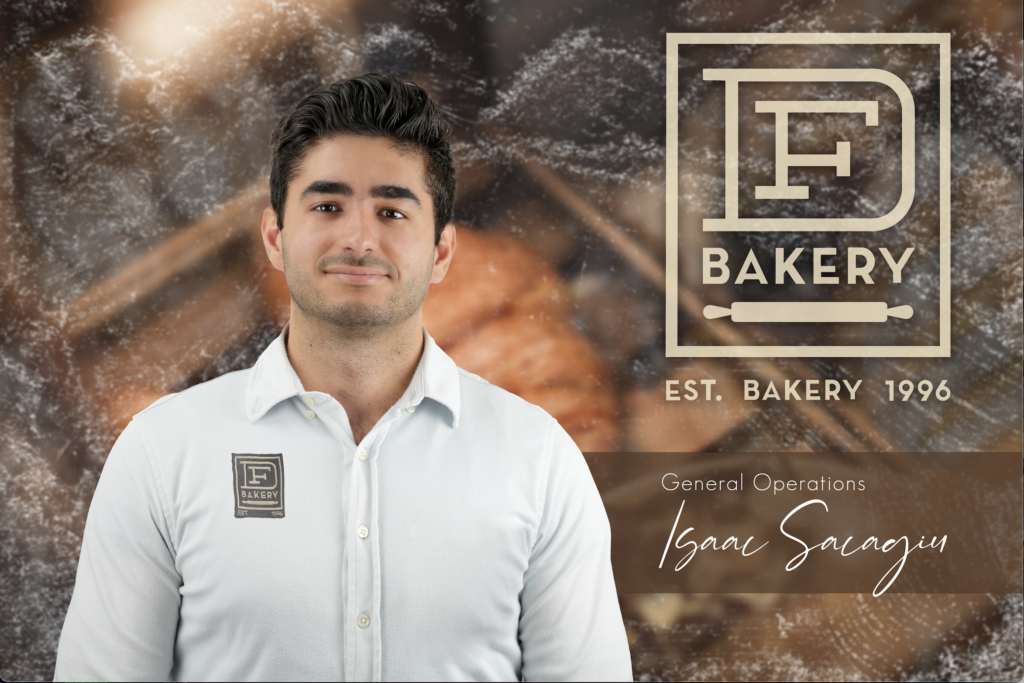 Isaac Sacagiu
– General Operations –
Isaac is an alumnus of Rollins College, having obtained a Bachelor of Arts in Business Management and Minor in Computer Science. He is currently honing his skills to become a versatile asset in all facets of DF Bakery. In his leisure, he savors the pursuit of literature and psychology, the art of engineering, and physical wellness.
"Learn something new every day!"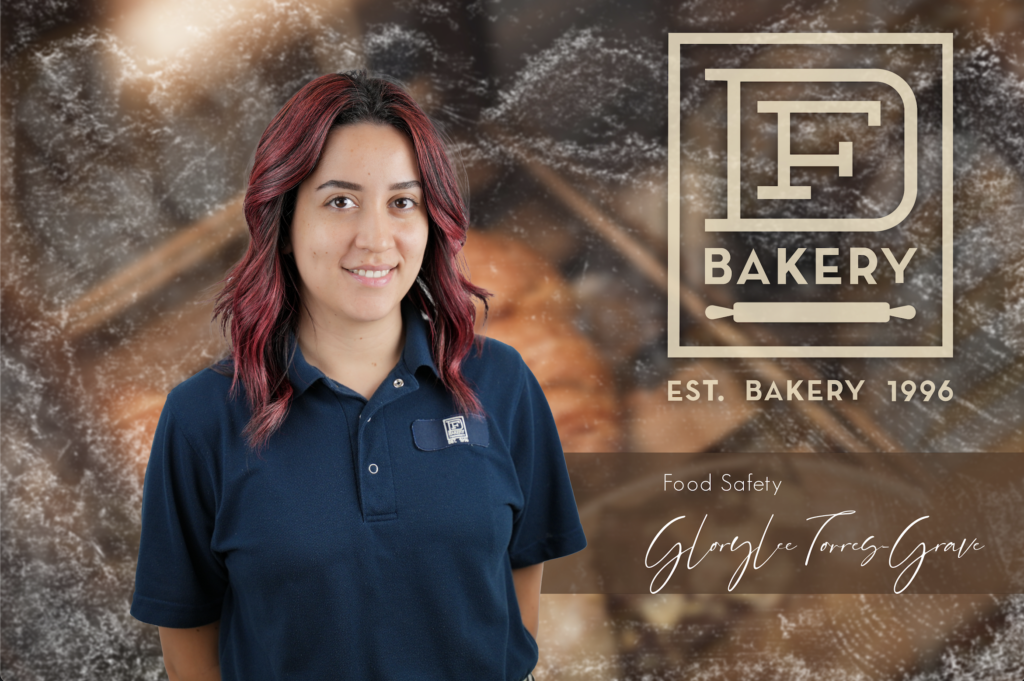 Glorylee Torres-Grave
– Food Safety –
Glorylee came onboard in September 2017. She started as the Ordering clerk, then has been educated and trained through certification to be our Food Safety Manager. She was born in Puerto Rico and raised in Orlando. She graduated from Saints Academy private school.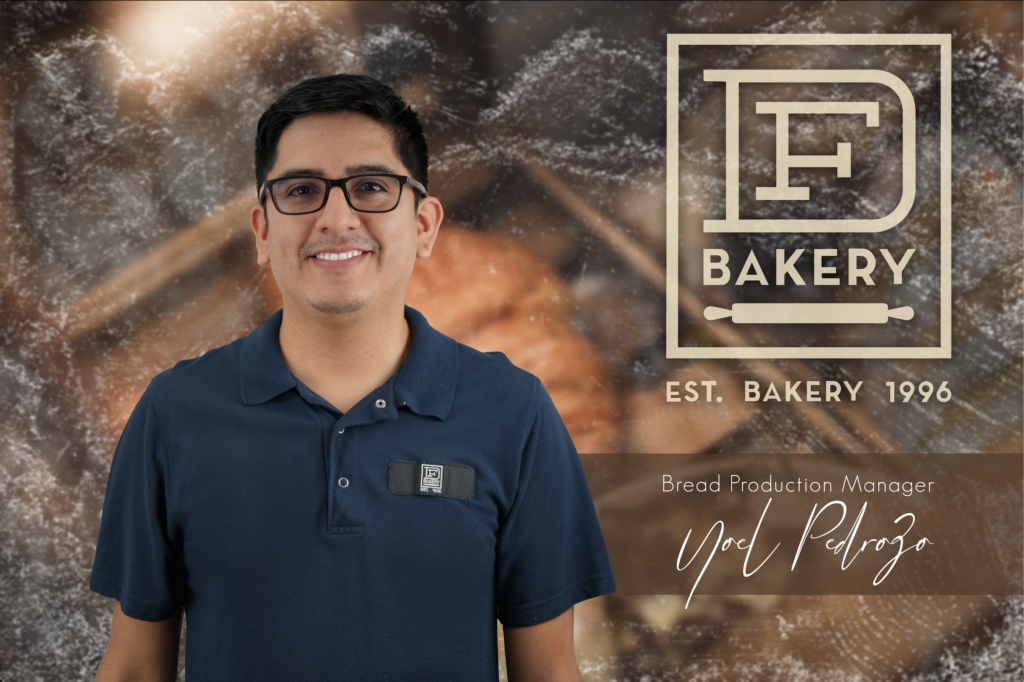 Yoel Pedrozo
– Bread Production Manager-
Born in Lima Peru, Yoel moved to Florida in 2016 and within a month joined the DF Bakery team. Yoel now serves to oversee and manage the bread production on a daily basis.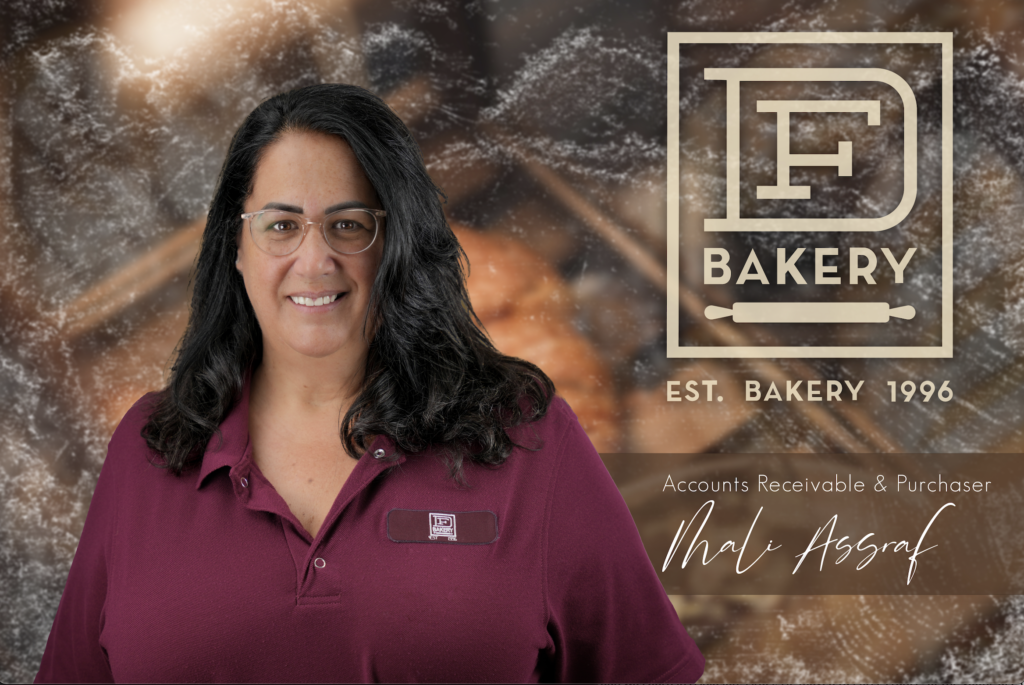 Mali Assraf
– Accounts Receivable & Purchaser –
Mali, Ran Sacagiu's sister, started at her brother's bakery in November 29, 2001.
Born in Israel and moved to France at the age of 5 yrs old. Studied in France and Israel.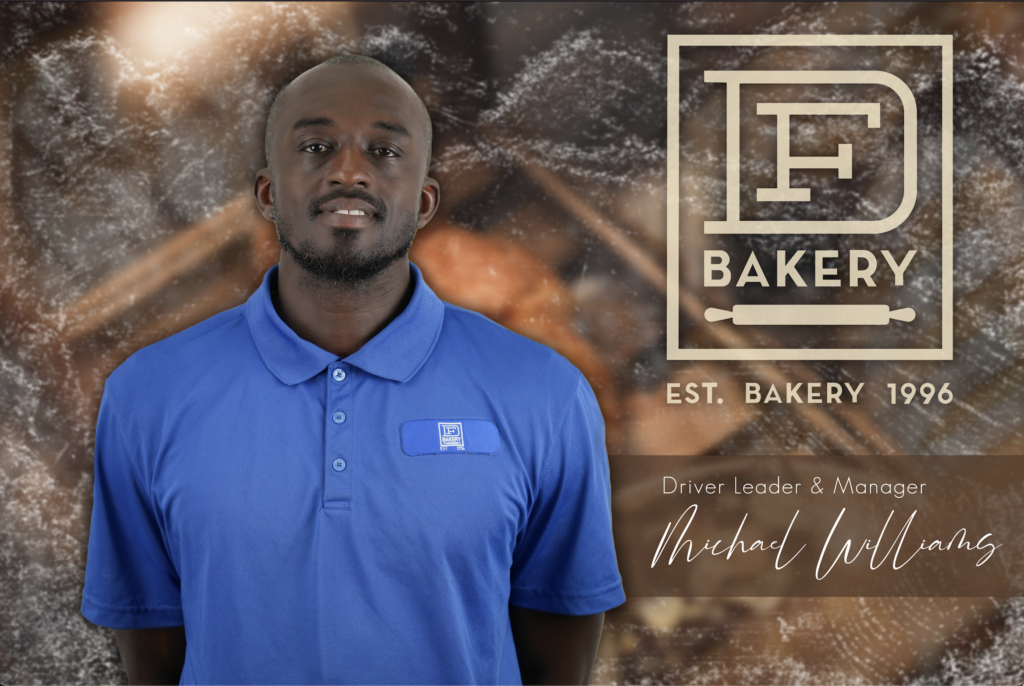 Michael Williams
– Driver Leader & Manager –
Michael has over 15 years of experience in Retail and Customer Service. Excels in leadership roles and always strives to train and develop associates.
"Be 1% better every day!"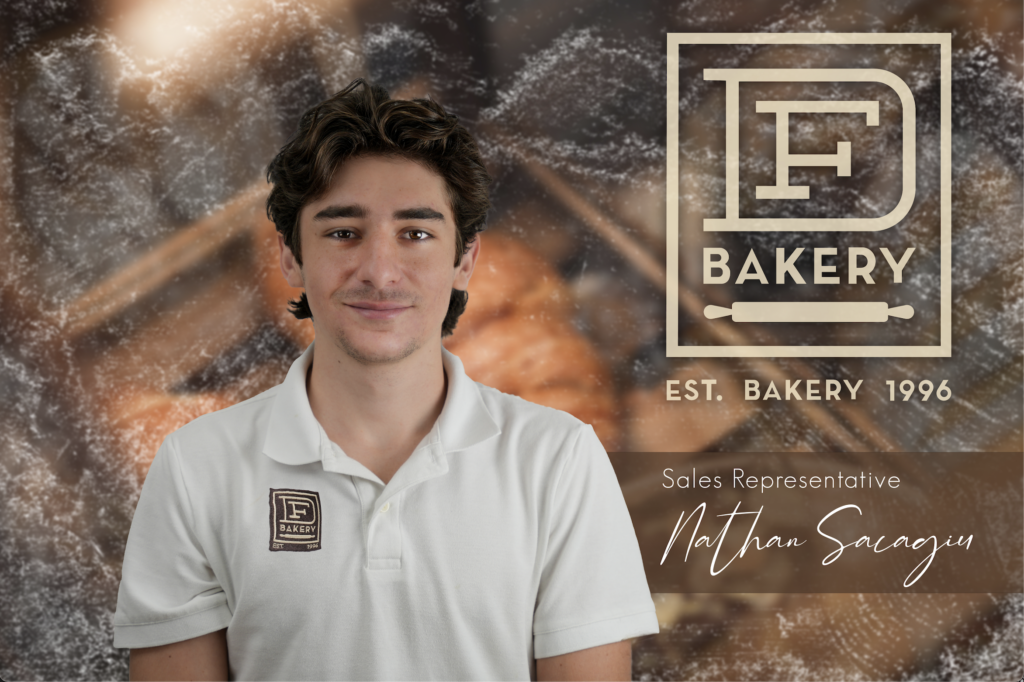 Nathan Sacagiu
– Sales Representative –
Nathan Graduated from Windermere Preparatory School. Currently studying Business Finance at Rollins. Prior competitive swimmer, and now, seeking to help the family business expand.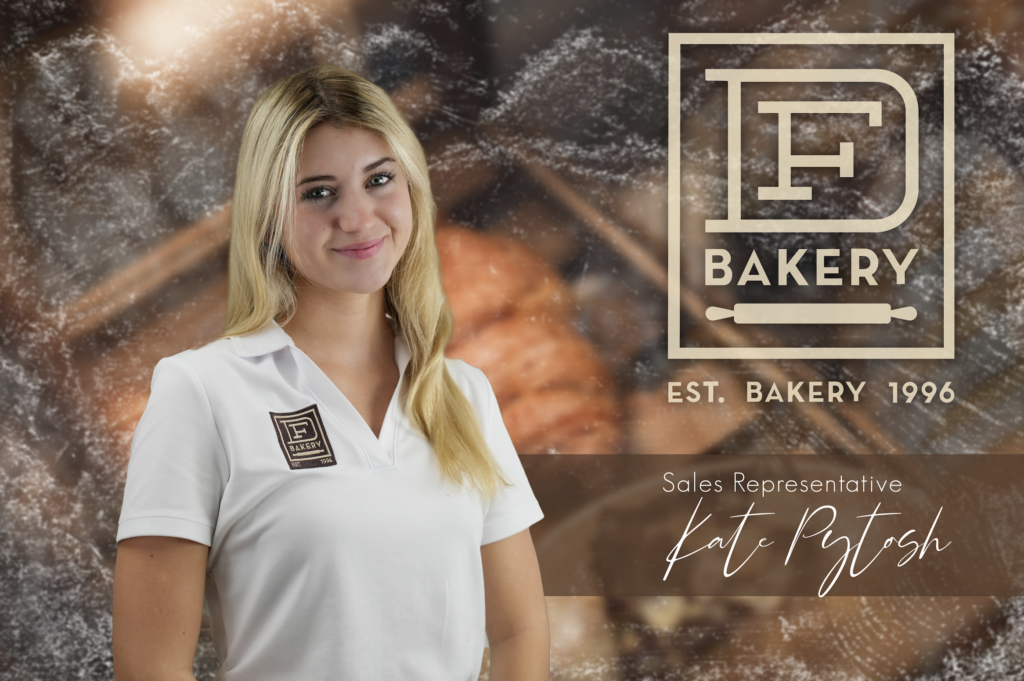 Kate Pytosh
– Sales Representative –
Born and raised in Orlando, Florida, Kate graduated from West Orange High school and is currently working on her Bachelors degree at Rollins College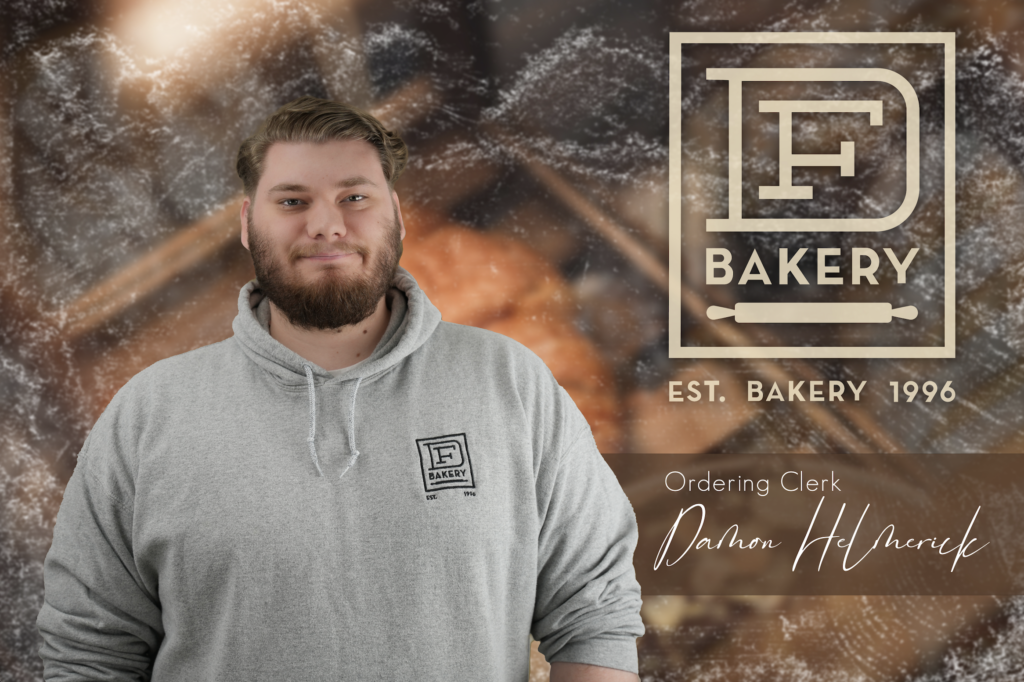 Damon Helmerick
– Ordering Clerk –
Damon was born in Boca Raton and raised in Orlando, FL. Graduated from Olympia High School.
DFB's Consultant – Didier Rosada
Didier Rosada, our Consulting Baker, is a highly esteemed expert in the baking industry, renowned for his innovative approach to creating new recipes and staying up-to-date with the latest trends. With an impressive range of experiences, from working on private research projects for Bay States Milling Company to becoming the unofficial trainer of the 1996 Baking Team USA, Mr. Rosada played a vital role in the American team's successful first-place finish in the bread category at the Coupe du Monde de Boulangerie in Paris in February 1996. His expert advice and patient guidance led his team to gold and silver medal wins in 1999 and 2002. Also serving as the official coach of the US Baking team that won the gold medal in Paris in April 2005. Currently, as Vice President of Operations for Uptown Bakery in Washington DC and a consultant for his own firm, Red Brick Consulting, Mr. Rosada brings his wealth of knowledge and expertise to help maximize our production and analyze our business growth.